Please use the following search bar to find listings.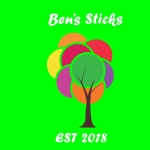 Business Description
Ben's Sticks is a small company in northern Ireland run by me Ben O'Connor we were established 2018 .
We cut Sticks and make wood products and creative things.
We are very big about the environment we have rule in place about our plan called the Eco Plan  every tree we cut down we plant a new it was established in 2019.
We give are money to the air ambulance  northern Ireland it is a charity and they need a lot of support it cost 2m per year to run the Air Ambulance .
Ben's Sticks have a variety services such as firelighters, logs, wood carving and we have a special product called the fir bundle  where you get 15 firelighters 25 logs and 7 blocks of coal .
Another one of our services is paintwork when we do our handmade carvings, we paint them any colour you want.
Our products go through  a high quality control  they get washed then they get checked  any that are to big or small don't go to waste my granda lives in a farmhouse he has a old fashioned stove he doesn't mind the rejects our sticks that are still to damp they get put back into the shade to get dry .
Send Message to listing owner