Please use the following search bar to find listings.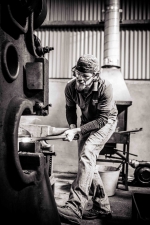 Business Description
From his forge just outside Saintfield blacksmith and craftsman Steven Murphy uses traditional hot forging and metalwork techniques to create high quality individual works of  Visual and Functional Art as well as  Architectural Metalwork including Gates, Railings and Balustrades. 
He also uses his Blacksmith Skills, leatherworking and woodwork skills to create weapons for the film, stage and television industry.
Steven also offers lessons in Blacksmithing and delivers blacksmith and iron forging demonstrations at Events.