Please use the following search bar to find listings.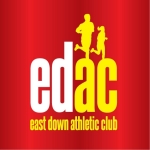 Business Description
In 2003 the Club became the first athletic club in NI to be awarded Goldclub status in the Junior Club Quality Accreditation Scheme administered by the NI Sports Council and as such is now the athletic representative on the Down Clubmark Sports Association.
Membership, which is drawn from every area and background has steadily increased over the years and training nights regularly sees 40/50 youngsters (aged 9 to 18 though most in the 11 to 16 category and of both sexes) in attendance, thus enabling the Club to once again participate with distinction in Cross Country races and Track and Field events in the Young Athletes League.
All the management and running of the Club is voluntary. Over the years fundraising has not been a major concern, as overheads were generally low, the most significant costs being for the hire of premises for training and to provide transport to and from venues throughout Ireland.
The main source of income was through membership fees and the nightly charge of £1 for attendance. A "cash reserve" was raised through annual enrolment.
Send Message to listing owner