Please use the following search bar to find listings.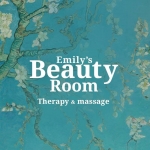 Business Description
Emily's Beauty Room, Therapy and Massage offer a range of beauty and massage treatments.
All massage treatments use a range of essential oils blended and tailored to your needs such as to treat problems such as back pain, anxiety, muscle tension, cellulite, headaches, stress and tension, menopause symptoms and many more.
With these essential oils, you are assured that every visit will leave you feeling rejuvenated, refreshed and relaxed.