Please use the following search bar to find listings.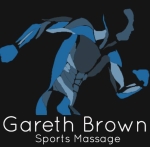 Business Description
Sports massage is designed to assist in correcting problems and imbalances in soft tissues that are caused from repetitive and strenuous physical activity.
The application of sports massage, prior to and after exercise, may enhance performance, aid recovery and prevent injury.
Following traumatic injury, sports massage may also enhance and improve the quality of soft tissue healing.
Visit Gareth Brown Sports Massage and Injury Therapy and discover what our expertise can do for you.