Please use the following search bar to find listings.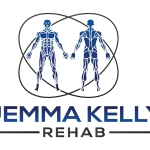 Business Description
Jemma Kelly ACertSAL (VTCT) is a fully qualified and insured Soft Tissue Therapist, with extensive experience in injury management and rehabilitation.
Jemma is also a Yoga Teacher and Pilates Instructor, working within the Industry since 2000. Combing years of experience in Fitness with more recently gained Qualifications in Injury Rehabilitation you can expect the highest standard of care and specialist advice.
Bespoke Exercise Prescription delivered 1-1 will help you to achieve your Health and Wellbeing goals, no matter what you find holding you back. Working with Jemma, you can begin to improve the Quality of your Life as well as reduce many long term causes of pain and dysfunction.
offers Private and Confidential Consultations and Treatments, Bespoke Exercise Prescriptions and Group Sessions.
Expertise includes – Injury management and rehab, Cupping, K-Tape, Electro Medical Accupuncture, Yoga and Pilates