Please use the following search bar to find listings.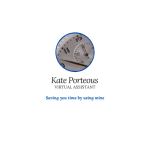 Business Description
My name is Kate Porteous and I am a Virtual Assistant.
I set up my business in 2015 with the aim of saving other people's time by using mine.
Small business and sole traders are very passionate about what the product they sell or the service they provide and are increasingly frustrated by the time they have to take away from this passion to do their paperwork.
For most it's a boring necessity that ends up getting done in an evening or on the weekend and it eats into their work – life balance.
As a self confessed admin enthusiast, I take pleasure in creating order from chaos and sorting things out.
My work motto is saving your time by using mine, so if you are struggling with your paperwork or resent taking time away from the real heart of your business, contact me on 0786 4619540 or Kate@KatePorteousVA.com