Please use the following search bar to find listings.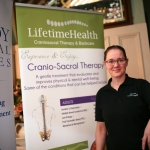 Business Description
Lifetime Health is a highly recommended multidisciplinary practice offering cranio-sacral therapy with massage, exercise rehabilitation and group personal development for teenagers and adults.
Our single focus is to inspire and help people live happier, healthier lives.
The best investment you can ever make is in your own health, should it be to improve your physical, mental or emotional well-being, Lifetime Health is here to help you.