Please use the following search bar to find listings.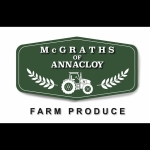 Business Description
The McGrath family have been farming for generations since the late 1800s, and its current owner, Joseph McGrath, has a wealth of over 70 years farming experience.
We have a mixture of native and continental breeds of cattle and sheep, producing high quality, and often award-winning, livestock.
In addition to our beef and lamb we have farm fresh turkeys, available in abundance at Christmas time. We also keep free range hens, the eggs from which can be collected from the honesty box at the end of our lane.
All of our chickens are free range and enjoy wandering the farm, that's why they taste so good! Eggs are hand-picked twice daily, to ensure that there are plenty to satisfy our many loyal customers.
Get in touch to taste beef from Annacloy!
Send Message to listing owner