Please use the following search bar to find listings.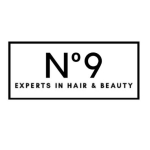 Business Description
The No.9 Experts in Hair & Beauty Salon is situated  in Newcastle and with over 30 years experience  in providing beauty treatments and hairdressing services, we are committed to and highly skilled in giving our customers the look they have always wanted.
We have an extensive selection of services to choose from.
In Beauty we specialise in gel nails, brows, massage and signature facial treatments. In Hair, we are experts in colouring, cutting, styling and conditioning the hair using the most leading brands in the industry to ensure optimum results.