Please use the following search bar to find listings.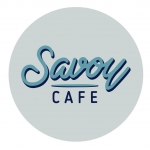 Business Description
Savoy Cafe is a family run eatery in the centre of Newcastle providing fresh food made to order
Busy shoppers can choose from the mouth watering array of prepared-to-order sandwiches and hot lunch options, or if they just want a quick tea or coffee, served with scrummy homemade tray-bakes or scone.
The Savoy breakfast menu, served from 9am to midday, has all tastes catered for, from the full fry through to a deliciously light toasted teacake, topped with cinnamon bananas and Greek yogurt.
The lunch dishes available continue the trend of great, tasty variety, with a selection of freshly made soups and sandwiches on sale, boasting tempting and unusual fillings.