Please use the following search bar to find listings.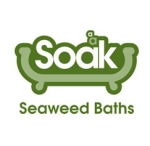 Business Description
SOAK is a place where you can come to relax in a unique and special way.
Listen to your favourite tunes as you melt all your troubles away in your own personal steam cabinet before luxuriating in the amber goodness of the mineral-rich seaweed and hot seawater that make up a seaweed bath.
SOAK is an holistic all Seaweed Spa.
During your visit you can experience one (or several!) of our wonderfull treatments. De-stress with one of our fab massages or perk yourself up with a revitalising facial using our own range of natural seaweed products.
All our Seaweed products are hand made in Ireland using sustainably harvested Seaweed. They are free from chemical preservatives.
Send Message to listing owner