Please use the following search bar to find listings.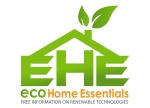 Business Description
Eco-Home-Essentials is an information source for anyone thinking about trying to improve the efficiency of their home or business.
Get free information on renewable technologies such as solar panels, wood pellet boilers (biomass) & condensation solutions etc.
Maybe you just want to reduce your electricity or heating costs by installing solar panels or a wood pellet boiler. Or perhaps you have a condensation problem and don't know how to cure it?
No matter what your starting point is, anyone can improve the efficiency of their home.  Regardless of whether you're building from scratch, renovating and existing property or just want to make it a little more efficient on a tight budget.